It's easy to take parts and pieces out of these ads and use them as individual clipart images.
As you probably know, we supply our images in both bitmap and vector format now, however for the sake of this discussion, we're going to work with a bitmap version.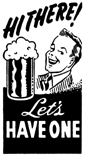 Let's take image #829 from our catalog.
Before you begin editing, you should first convert the image to grayscale, and then to RGB (if you want to apply color). This high resolution file will balloon to 45 megs in size, so you'll have to reduce the file size (ppi) substantially in order to make the image easier to work with.